11 banks and corporates with 14 diverse payments challenges, taken on by 26 fintechs with many Worldline assets at their disposal. This was the e-payments challenge organized by Worldline this summer, culminating in a two-day hackathon in Frankfurt mid-September.
AcceptEasy joined the fray, beating out 7 other fintechs to win the Request-To-Pay challenge submitted by BNP Paribas to streamline b2b commerce for corporate customers.
Not everyone could handle the intensity and long hours of the event. Getting API's to work, going on stage to pitch your business, meeting interesting new people, attending presentations, all while powering towards a demo and a Powerpoint to present your solution to one (or more) of the challenges.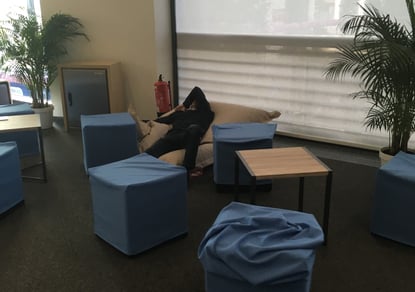 The AcceptEasy team also worked hard, on both the tech side and the business side of the challenge. But working hard and smart is what we do, and Request-to-Pay is also what we do. So this is us, still going strong during the final stretch of the event: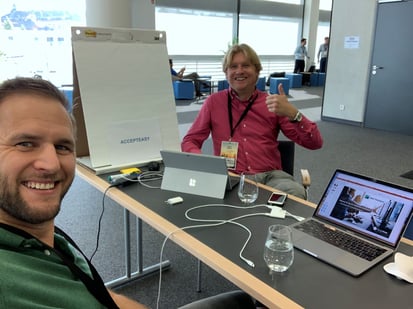 PSD2, XS2A, PISP, Instant Payments, Open Banking, Wallets and cards. But also Identity, Authentication, Ultrasound, AI, Blockchain and more. A payment used to be a payment, but its scope today is stretching into complete use cases about your hotel experience, unlocking rental bikes and returning e-commerce purchases. From physical to digital and back again, the challenges and solutions showcased how transactions are everywhere.
Request-to-Pay
Amidst all that high tech, Request-To-Pay seems like a relatively simple concept, because it is such an elegant concept: deliver a question along with its predefined answer(s). Easy and mistake-free for the recipient, it has tremendous benefits for all involved. But as we know and as BNP Paribas recognized, there is a lot more than meets the eye - especially when trying to deploy it at scale for a large corporate, and even more so when applying it to the complexities of b2b relationships instead of simpler c2b bill pay. And even more so across different European countries with their own payment infrastructures and paradigms. Will PSD2, Open Banking and Instant Payments come to the rescue?
For now, let's just say that the jury, made up of BNP Paribas and Worldline representatives, apparently liked what they saw from AcceptEasy. So a big thank you to both companies for enabling this challenge and picking us as the winner!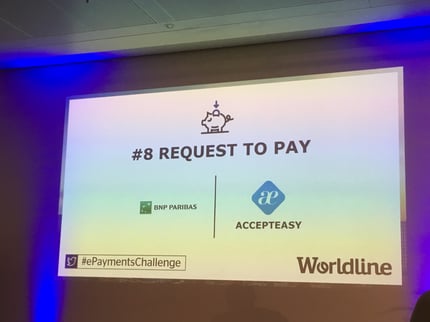 Finally, a word of appreciation and admiration for Worldline CEO Gilles Grapinet, whose truly inspirational speech to close the proceedings left us in awe. Effortlessly and eloquently blending together insights on society, payments, business and life, he provided many valuable messages and one in particular: as plenty of great technology is available to plenty of smart people to build solutions, the key to innovation is to find (and understand) problems worth solving.
Want to know more about the many, many, many use cases for payment requests in your industry? Get in touch.