Our payment links reach millions of people via many different channels, on behalf of the billers who use our services. They all link to a payment page with a unique URL for that particular transaction. Now, billers and (banking) partners can choose and use their own domain for those payment pages. This enables a more seamlessly branded experience, also improving consumer trust in the end-to-end flow.
Say you work at a business called MyCompany. You are responsible for payment interactions in areas like billing, dunning, collections, customer service or even onboarding. You want to reach people by email, SMS, WhatsApp, your online portal, QR code, perhaps even paper. You do not just want to ask for payment, you want to enable it – with online payments like cards, wallets and account-based options.
A payment link takes someone straight to a web page to authorize the required payment. Using a regular PSP (Payment Service Provider), this web page will often use their own domain URL, with their own design, often outdated and not responsive to differences in browser and device size. Now look at this: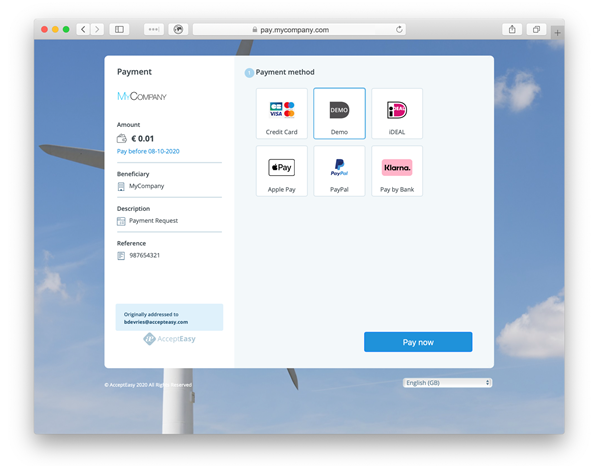 That is MyCompany's logo, background image, and even URL (pay.mycompany.com is just an example, you can choose any name and structure you want). Plus, all the payment details for the customer to verify before choosing from the payment options that MyCompany wants to offer. A seamless experience from, for example, a similarly well-designed and MyCompany-branded email. Absolutely no reason for a consumer to doubt the veracity of the email payment request, especially when the brand relies on our expertise in security and deliverability. And it's all hosted by us, so no IT headaches for MyCompany.
Also think of channels like SMS that don't allow for a button to act as the link: displaying your own URL is a more trustworthy experience, even if the underlying security is the same as our own domain that hundreds of brands have been using for many years. One less mental step to take for the consumer.
Finally, using your own domain also simplifies communication in for example the Frequently Asked Questions section of your website. It's all with your own brand, instead of having to explain about some third-party vendor.
Early results have shown faster adoption for new implementations, and increased conversion for existing ones. Interested? Please get in touch via email, telephone, live chat or the Contact form.