Zorgverzekeraar ONVZ biedt online betaalgemak nu ook vanuit zijn mobiele app, tot vreugde van marketing en finance. En de klant.
Zorgverzekeraars moeten ieder jaar weer concurreren om de gunst van de verzekerde. Dit doen ze natuurlijk op prijs en op zorg, maar ook op klantervaring. Betaalgemak vormt een flink deel van die klantervaring, zeker als je gezond bent. Betaalgemak helpt ook bij kostenbeheersing: hoeveel tijd en geld moet de organisatie besteden aan het binnenhalen en verwerken van betalingen? Hoeveel kan digitaal, automatisch, en steeds slimmer?
Automatische incasso niet vanzelfsprekend
ONVZ werkt, net als vele andere Nederlandse (zorg)verzekeraars, samen met Serrala – de uitvinder van de digitale acceptgiro – voor alles wat niet met automatische incasso gaat of lukt. Premies, eigen risico, mislukte incasso's, herinneringen: ONVZ bereikt en bedient klanten met betaalverzoeken waarmee je snel, makkelijk en veilig met iDEAL kunt betalen. Dat gebeurt meer dan je denkt: veel mensen willen of moeten iedere maand kiezen welke rekening ze wel of niet betalen en wanneer. Iedere maand mislukt ook een percentage automatische incasso's.
Ieder kanaal een betaalkanaal
Die betaalverzoeken gebeurden al via e-mail: het kanaal dat vrijwel iedereen heeft en dagelijks bekijkt op laptop, tablet en mobiel. Maar ONVZ biedt ook zelf kanalen voor interactie met klanten: eerst de Mijn-omgeving, toen ook een app voor op je smartphone. Waar klanten na authenticatie hun gegevens kunnen inzien en wijzigen, declaraties kunnen indienen, rekeningen bekijken... en ook betalen. Dat gebeurt met iDEAL, op dezelfde manier en met dezelfde ervaring als vanuit de e-mails. Sterker nog: waar een klant ook betaalt, het betaalverzoek springt in ieder kanaal meteen op Betaald. Consistent, duidelijk, en zonder kans op dubbele betalingen. Allemaal netjes en snel ingericht met een paar API calls.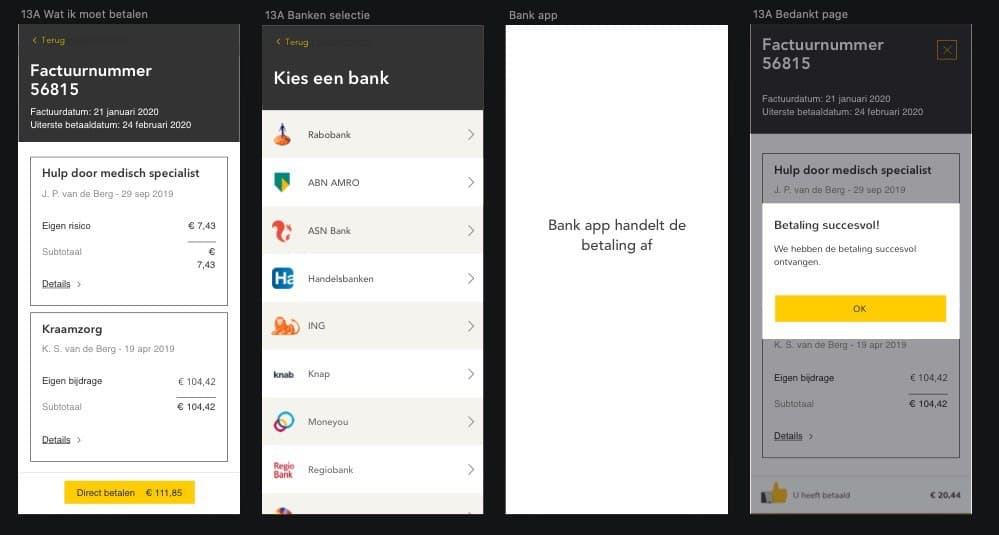 Digitaal geheugensteuntje
Betaalverzoeken ook in de mobiele app laten landen, biedt daarbij nog een mooi voordeel: mobiele apps ondersteunen push-notificaties, die de klant kunnen waarschuwen als een rekening arriveert en/of bijna betaald moet worden. Zo'n melding op je telefoon is vervelend als het om dingen gaat die niet echt belangrijk zijn. Maar je zorgverzekeraar (of andere leverancier) die je attendeert op iets wat je echt even moet doen? Dat is fijne service. En: minder onnodig debiteurenbeheer voor ONVZ. Iedereen wint.
Ieder z'n vak
Keuze, gemak, duidelijkheid, veiligheid, kwaliteit en uitstekende service: allemaal kwaliteiten die ONVZ hoog in het vaandel heeft staan. Ook voor dat cruciale deel van iedere klantrelatie: betalen. Op het oog is dat niet zo ingewikkeld: je komt iDEAL wel vaker tegen, ook op klantportalen. Maar om alles van bronsysteem tot klant (en weer terug) perfect in te richten, over kanalen heen, met geautomatiseerde processen en real-time status updates? Daarvoor kiest ONVZ bewust voor de tooling en expertise van de marktleider in betaalverzoeken. Zodat de zorgverzekeraar zich kan focussen op waar het goed in is: de zorg.