We zeiden het al eens eerder in dit blog: iDEAL is een geweldige Nederlandse uitvinding. Er is alleen één nadeel. Betalen met iDEAL betekent: meteen afrekenen. Het geld wordt per direct van de rekening afgeschreven. Ook al ligt de betaaltermijn misschien pas over enkele dagen of weken, een iDEAL-transactie wordt onmiddellijk uitgevoerd. Andere smaken zijn er niet.
Het komt daarom voor dat mensen de betaling van zo'n rekening uitstellen. Bijvoorbeeld als het nèt even slecht uitkomt. Dan is het prettig als je de klant bijtijds en op een vriendelijke manier aan zijn betaalverplichting kan herinneren, zonder hem meteen op te zadelen met herinneringen (duur voor bedrijven) of boetes voor te laat betalen (duur voor klanten).
Wij hebben daar iets op gevonden: de snooze knop. Komt betalen nu niet uit? Geen punt. Geef je klant de optie om iDEAL betalingen te snoozen. Door te snoozen, verschijnt het verzoek om te betalen op een ander moment weer bovenaan in de inbox of SMS-lijst van 'de snoozer'. Zo kan iemand gewoon keurig voor de vervaldatum zijn iDEAL betaling alsnog doen, wanneer het hem uitkomt. Klantgerichte en proactieve communicatie waarmee herinneringskosten, telefoontjes en een hoop frustratie worden voorkomen.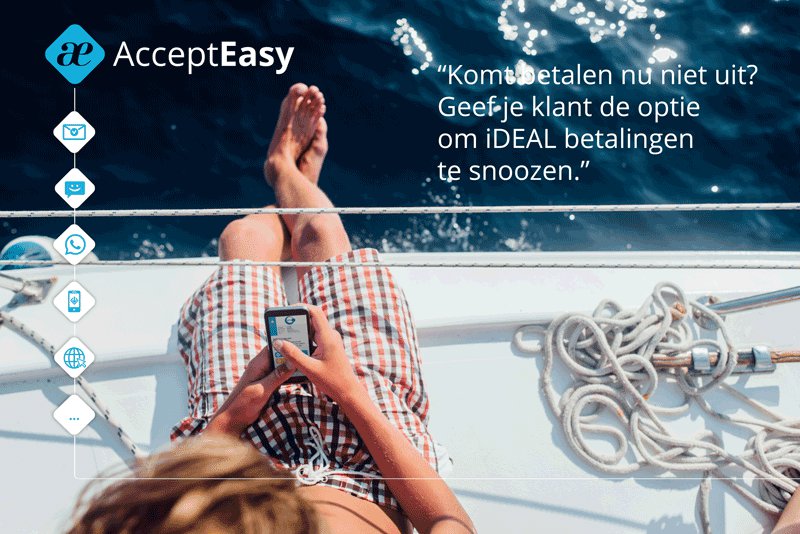 Het betaalmoment is de laatste halte in de customer journey; de virtuele aankoopreis die de klant maakt. Bied je hem niet alleen veiligheid en gemak maar ook nog eens keuzevrijheid, dan blijft dat in het geheugen hangen. Wil je meer weten over het snoozen van iDEAL betalingen? Neem contact op.