Onze betaalverzoeken bereiken miljoenen mensen via allerlei kanalen, namens bedrijven die onze diensten gebruiken. Ze linken allemaal naar een betaalpagina met een unieke URL voor die specifieke transactie. Incassanten en partners kunnen nu hun eigen domein kiezen en gebruiken voor die betaalpagina's. Dit faciliteert een naadloze merkervaring, die ook het vertrouwen van de consument in het hele proces vergroot.
Stel je werkt bij een bedrijf genaamd MyCompany. Je bent verantwoordelijk voor betaalinteracties zoals facturatie, herinneren, debiteurenbeheer, klantenservice, zelfs onboarding. Je wilt mensen bereiken via email, SMS, WhatsApp, je Mijn-Omgeving, QR code, misschien zelfs papier. Je wilt niet alleen vragen om betaling, je wilt betaling ook faciliteren – met iDEAL en/of andere online betaalmethoden zoals credit cards, PayPal of Apple Pay.
Een betaallink brengt iemand meteen naar een webpagina om de gevraagde betaling te authoriseren. Bij een reguliere PSP (Payment Service Provider) gebruikt deze pagina vaak het eigen domein, met haar eigen ontwerp, vaak verouderd en niet responsief voor verschillen in browser en schermgrootte. Kijk nu eens hiernaar: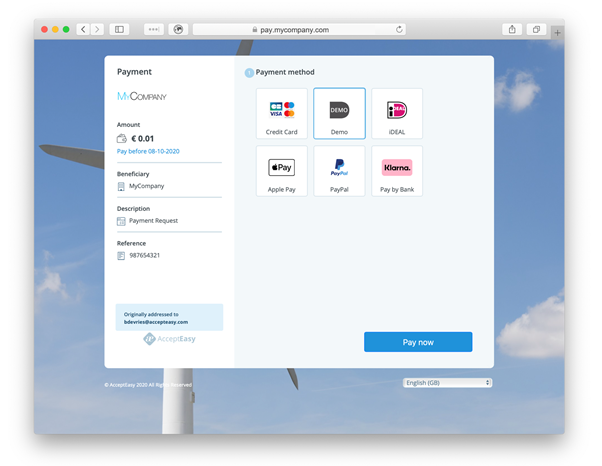 Dat is het logo van MyCompany, haar eigen foto, en zelfs URL (pay.mycompany.com is slechts een voorbeeld, je kunt elke naam en structuur kiezen die je wilt). En, alle betaalgegevens voor de klant om te checken alvorens te kiezen uit de betaalmethoden die MyCompany wil aanbieden. Een naadloze ervaring vanuit, bijvoorbeeld, een net zo goed ontworpen en MyCompany-branded email. Geen enkele reden voor de consument om te twijfelen aan de echtheid van het email betaalverzoek, zeker als het merk vertrouwt op onze expertise in veiligheid en deliverability. En, wij hosten de pagina, dus geen kopzorgen voor de IT-afdeling van MyCompany.
Denk ook aan kanalen als SMS waarin je geen betaalknop kunt plaatsen als de link: je eigen URL weergeven is dan makkelijker te vertrouwen, ook al is de onderliggende security dezelfde als die van ons eigen domein dat honderden merken al jaren gebruiken. Het mentale drempeltje is net even wat lager voor de consument.
Tot slot maakt gebruik van je eigen domein het ook makkelijk om te communiceren in bijvoorbeeld de Veelgestelde Vragen op je website. Het is allemaal je eigen merk, in plaats van ons bestaan te moeten uitleggen.
De eerste resultaten laten snellere adoptie zien bij nieuwe implementaties, en hogere conversie voor bestaande implementaties. Meer weten? Neem contact op via email, telefoon, live chat of het Contact-formulier.